Focus: Everybody needs beauty as well as bread, places to play in and pray in, where nature may heal and give strength to body and soul. – John Muir
Threshold Moment: A Time for Centering
Welcome: The demands of following Jesus are great. He shows us that sometimes we must make extraordinary efforts to move in a new direction. As we consider the health of humanity, we cannot ignore the need to heal the very planet that sustains us. We live in increasing chaos of a beleaguered environment and the hoarding of resources. We want to be "saved" by something or someone else, but we discover this week that we are in the boat with the One who shows us our power to turn it around, to calm the storm. We protect the jewel that is our home, restoring something beautiful from scars of the past.
Gathering Music: Mercy, Mercy Me (The Ecology … by Marvin Gaye) – Michelle Currie
Opening Prayer of Confession:
Life-giving God,
In the beginning, you created this universe…and the waters and dry land, the sky and the creatures were formed. You set humanity among these wonders and invited us to care and honor all things. We have not successfully answered that call.
Seeing the abundance as a feast that would never end, we have not always been good stewards, too often taking more than we could replenish at a rate that could not be sustained.
We are beginning to comprehend the magnitude, beginning to see that things cannot just keep going "as usual" and not have dire consequences. We are frightened, which is partly why we are slow to accept it. But we now are witnesses to the forces of a world more broken that when we inherited it:
water, wind, and wave, fire, drought, and earthquake
that signal it is time to pay attention and to make real change.
Too often we think there is nothing we can do–that the change required is too great. It all feels overwhelming and so we look away, sometimes even from the small things that could make a difference for our own community.
Help us, Healer.
Show us our ability to chart a different course.
Forgive our inaction.
Guide us to move one step at a time toward greater care for one another. In this silence, we sense and acknowledge our yearning for wholeness.
Silence
Anthem: Faith In The Water (by The Texas Dirt Choir) – Michelle Currie
Words of Assurance:
Be assured of God's love for each of us and for this beloved planet and remember this: Jesus asks us to do hard things, to make changes, knowing we are capable.
No. Matter. What.
We can change in order to heal this planet we call home.
The calm of Christ in the storm is available.
For you, for me, for all.
Take a deep breath in to let this truth fill you…
and breathe out with the relief of assurance.
Silence
Opening Hymn: For the Beauty of the Earth (by William Chatterton Dix/Geoffrey Turton Shaw) – Michelle Currie
Readings and Scripture: Contemporary Reflections, Matthew 8: 18-27 – Rich Westley
Sermon: Serving Life – Jen Comeau
Music: Meditative Instrumental ~ Come To The Water (by John Foley) – Michelle Currie
Musical call to Prayer: (two times) Hush now in quiet peace, be still your mind at ease. The Spirit brings release, so wait upon the Lord.
Prayers of the People:
Lord's Prayer
Closing Music: Joyful, Joyful (by Mark Hall/Bernie Herms) – Michelle Currie
Benediction:
May we find the road that leads to life;
may we take the turns that brings right relationships;
may we pause to accompany others on the way;
and may we journey with God through Lent,
and long for the horizon and dawn. And the grace.
Postlude: Go In Peace
Inspiration for our Sermon Today…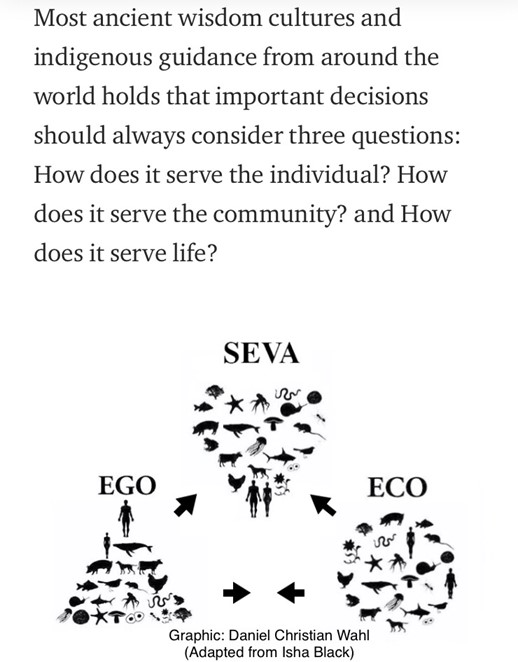 Our Readings for Today
Contemporary Words
"A good person is the friend of all living things. – Mohandas Gandhi
"The more clearly we can focus our attention on the wonders and realities of the universe, the less taste we shall have for destruction." ― Rachel Carson
"Twenty-five years ago people could be excused for not knowing much about, or doing much, about climate change. Today we have no excuse." – Desmond Tutu
"We don't inherit the earth from our ancestors, we borrow it from our children." – David Brower
An Ancient Word Matthew 8: 18-27
Now when Jesus saw great crowds around him, he gave orders to go over to the other side. A scribe then approached and said, "Teacher, I will follow you wherever you go." And Jesus said to him, "Foxes have holes, and birds of the air have nests; but the Son of Man has nowhere to lay his head." Another of his disciples said to him, "Lord, first let me go and bury my father." But Jesus said to him, "Follow me, and let the dead bury their own dead."
And when he got into the boat, his disciples followed him. A windstorm arose on the sea, so great that the boat was being swamped by the waves; but he was asleep. And they went and woke him up, saying, "Lord, save us! We are perishing!" And he said to them, "Why are you afraid, you of little faith?" Then he got up and rebuked the winds and the sea; and there was a dead calm. They were amazed, saying, "What sort of man is this, that even the winds and the sea obey him?"